NTT DoCoMo translation service in Japan converts Japanese into 10 languages and vice versa
This month NTT DoCoMo began its second trial of a translation service in Japan that converts Japanese into 10 languages — English, Korean, Chinese, German, French, Spanish, Portuguese, Italian, Thai and Indonesian — and vice versa. NTT DoCoMo feels the service to have high potential, especially among companies that regularly communicate with foreigners. The service, which is available as an application for DoCoMo smartphones powered by Google Android operating system, can be operated in two modes.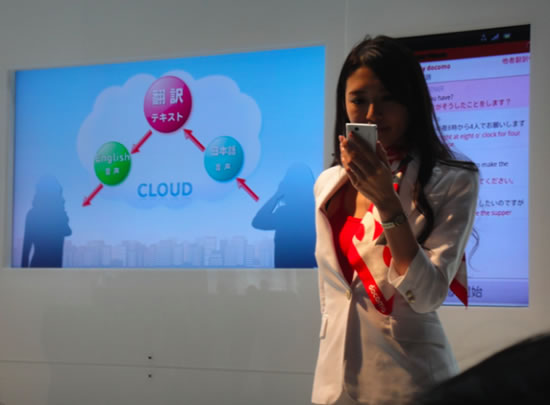 The first helps people in a face-to-face conversation communicate by using a smartphone as an interpreter. For instance, in the English-Japanese translation setting, if a person says "Hello. How are you?" into the phone, the device will display the phrase in both Japanese and English. An automated voice will then say the translated version. In this way, the users hold a conversation by taking turns speaking into the phone. If the speakers are not together, they can have a conversation over the phone. The only difference is a second handset is necessary.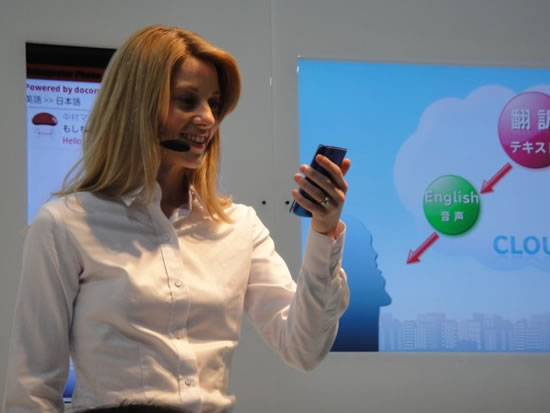 If an English speaker is talking to Japanese, the original English phrases will be delivered first and then a Japanese translation will follow. The text will also be displayed, just as in the face-to-face communication mode. However, only three languages — English, Chinese and Korean — are available for the phone conversation mode. If the phrases are concise and not very complicated, the translations are fairly accurate.


The second trial kicked off June 1 and is targeting 10,000 users. The service is available at the DoCoMo site. The trial will end in September, and DoCoMo plans to officially launch the service within the current fiscal year. While there are still challenges, such as improving the accuracy of the translation and establishing a profitable business model, the service is part of the firm's strategy to make its network more "intelligent" to differentiate it from rival carriers amid stiffening competition.

---
---
---