Samsung Galaxy S4 Active built for a lifestyle of travel and exploration

Samsung announced the Galaxy S4 Active, designed to enhance life experiences of the active user who wants to stay connected while exploring environments from the most rugged mountain trails to the roughest rivers. The Galaxy S4 Active has qualified protection from dust and water (IP67). The fully sealed design keeps dust particles out and protects against water damage for up to 30 minutes of submergence at a depth of one meter. Equipped with a water-resistant earphone jack, the GALAXY S4 Active frees you to use earphones in more adventurous conditions, in the same way you've used them in normal ones.



Featuring a 1.9 GHZ Quad-Core processor and 2,600mAh battery, the Galaxy S4 Active can handle the most intensive tasks with ease and precision. Striking color and stunning resolution on the device's beautiful 5.0'' Full HD TFT LCD screen (443 PPI) makes playing the newest games or watching hours of video easy on the eyes. And with 'Glove Touch', cold weather is no longer a problem since the touchscreen can be fully operated while wearing gloves.


With an 8-megapixel rear camera, users can easily share their vivid experiences while on the go. Unique to the GALAXY S4 Active camera, 'Aqua Mode' can be used to increase visual quality and clarity for enhanced underwater images and video. The volume key located on the side of the device can be used as a camera key, allowing users to easily and quickly open the camera application to capture photo and video the moment it happens. Additionally, the camera transforms into a powerful LED flash light to assist in low-light and nighttime activities with a simple long press of the volume key.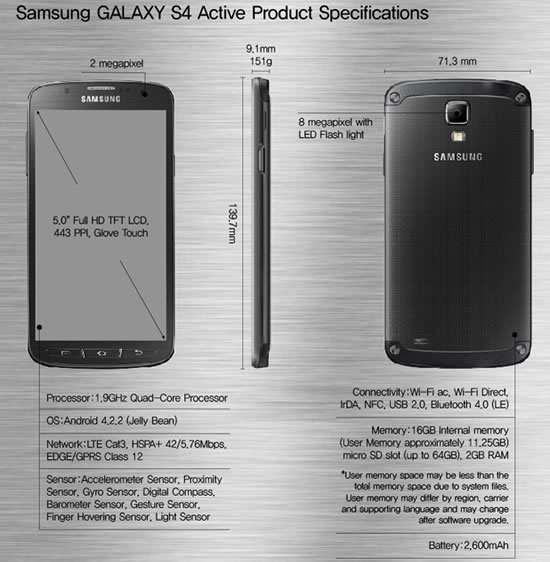 The Galaxy S4 Active will be available for purchase beginning this summer, with initial retail in the U.S. and Sweden. It will be offered in three different color options: Urban Grey, Dive Blue and Orange Flare. Specific availability will vary depending on the market. Media requests and invited partners will be offered hands-on demonstrations with the GALAXY S4 Active at the Samsung Premiere 2013 GALAXY & ATIV in London on Thursday, June 20th.
---
---
---