Sony unveils worlds Lowest Power Consumption GNSS receiver LSIs for smartphones and mobile products
Sony today announced the commercialization of two Global Navigation Satellite System (GNSS) Receiver LSIs that achieve the industry's lowest power consumption of just 10mW, and one GNSS Receiver Module for use in mobile products. These LSIs are equipped with Sensor Fusion functionality, which facilitates arithmetic processing to measure highly accurate positional information by combining information received from multiple sensors built into the smartphone, such as accelerometers, magnetic sensors and gyro sensors.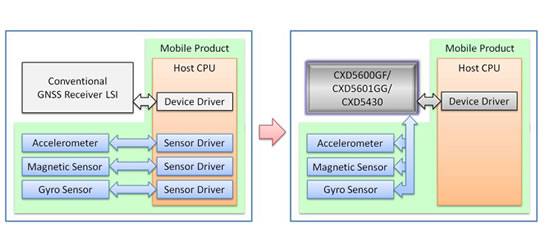 Even when indoors, or other environments where it can be difficult to measure a location with just the satellite signal reception, the technology is capable of generating autonomous navigation ('dead reckoning') to deliver highly precise positional information. It is compatible with five measurement system, including the Global Positioning System (GPS), Global Navigation Satellite System (GLONASS), Quasi-Zenith Satellite System (QZSS) and satellite-based augmentation system (SBAS), as well as the Indoor Messaging System (IMES). These models are scheduled to be launched sequentially from June, 2013.
---
---
---