JVC Launches waterproof Secure-Fit Sports Headphones
JVC today announced the launch of four new sports headphones that include waterproof and washable options, all designed to stay in place during the most vigorous sports or workout activities. The four new models include two in the JVC Gumy Sport line and two in the Extreme Fitness line. The new Gumy Sport headphones – the HA-EN10 and HA-ENR15 – feature a Nozzle Fit earpiece made of soft silicone and a unique shape that provides a comfortable and secure fit so they won't fall out during exercise. Both Gumy Sport models are sweatproof with IPX2 water ingress protection rating, which means they can be used during light rainfall. The 3.3-foot cable has an iPhone compatible plug, and small and medium earpieces are included to ensure the best fit. The HA-ENR15 includes an in-line remote control and microphone for use with iPod, iPhone, iPad, Android and Blackberry devices.


The new JVC HA-ETX30 and HA-ETR40 Extreme Fitness headphones feature JVC's new Pivot Motion Fit, a soft rubber rotating hook that fits within the part of the ear just above the ear canal to provide an ultra-secure yet very comfortable fit. To tailor the fit to each user, the hook rotates and its position can easily be adjusted while wearing the earpiece. The Extreme Fitness headphones are IPX5/IPX7 rated. The 3.94-foot cord has a gold-plated iPhone compatible plug. The HA-ETR40 includes additional open-type earpieces that allow ambient sounds to be heard, such as approaching traffic, for safety. It also features a splash-proof in-line remote control and microphone on a 1.97-foot cable plus a 1.97-foot extension cord. The new JVC sports headphones will be available in late September.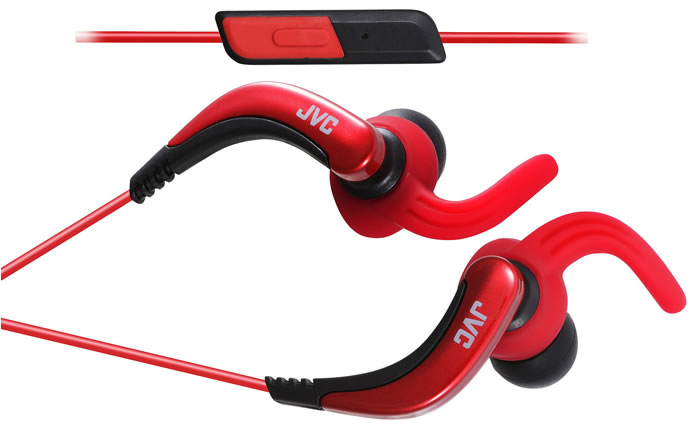 ---
---
---