New iPod Nano comes with video, big screen and FM Radio with pausing and rewinding

The new 5G iPod nano brings video to your music with the new built-in video camera. You can record video, listen to the FM radio and also track the number of steps taken by exercisers with the new Apple iPod Nano. The new nano has a polished anodized aluminum exterior and also has a larger 2.2 inch display. It has a voiceover feature that tells the listener what is being played currently. The big news here is the inclusion of a video camera, a mic, and a built-in speaker on the back panel. The integrated camera captures 640×480 standard definition video at 30 frames per second and you can review them later and add special effects also.


You can upload it to YouTube with one click. The FM radio features live pause which means you can pause and resume playing a station. The other feature is the iTune Tagging, allowing you to tag songs you like when you listen to the radio. This song can be purchased from iTunes and synced back with a host computer.

You can play AAC (both old Apple DRM and unprotected files), MP3, MP3 VBR, Audible, Apple Lossless, AIFF, and WAV files. Video is limited to H.264 and MPEG-4. For photos, JPEG and most other common photo formats are supported. The new iPod Nano has 24 hours of music playback or 5 hours of video playback on a single charge. The 8GB can record up to 7 hours of video while the 16GB can go up to 14 hours. The Apple iPod Nano 8GB will cost you $149 and the 16GB will be priced at $179.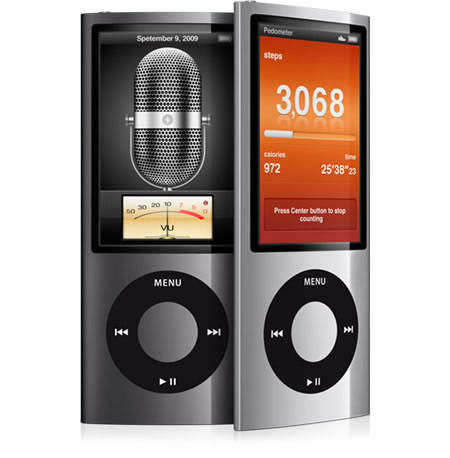 ---
---
---