Sony Debuts Two New Premium Music Players Including New Walkman NW-WM1ZM2 with Gold-plated Oxygen-Free Copper Chassis
Sony today introduced two new premium music players, the NW-WM1ZM2 and NW-WM1AM2, raising the bar to new heights in high-resolution audio listening, to satisfy the most demanding audiophiles. Designed to immerse the listener in sublime, nuanced sound, the Sony NW-WM1ZM2 has been fine-tuned from years of audio mastery and crafted from the very best materials. Both music players let the user download and stream from endless catalogues of music with Wi-Fi compatibility, taking the listening enjoyment to the next level.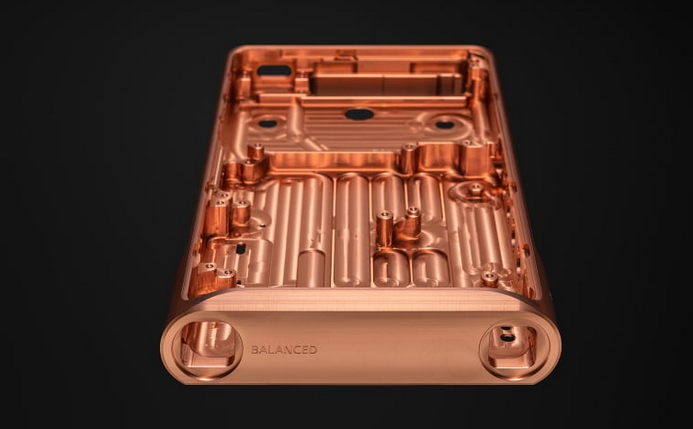 The NW-WM1ZM2 has a 99.99% purity (4N) Gold-plated Oxygen-Free Copper (OFC) Chassis. This realizes a stronger digital ground and higher rigidity, enabling clear, expansive sound, so the listener can experience each instrument as if it were performing live.
Sony NW-WM1AM2 uses an aluminum alloy frame which provides a highly rigid case that's resistive to electrical noise and other interference creating a stable, high-quality sound.
With the use of S-Master HX digital amp technology, independently developed for Walkman, the NW-WM1ZM2 and NW-WM1AM2 deliver a stunningly faithful sound reproduction. The full digital amplifier further creates a rich and full-bodied sound, with the help of a high-quality lead-free solder. Taking inspiration from the ground-breaking Sony DMP-Z1, both music players feature an even stronger power supply than their predecessor models, both in the analog and digital block.
To achieve a powerful and smooth sound quality, Sony has selected a thick KIMBER KABLE to run from the amp base to the balanced headphone jack on the NW-WM1ZM2, much like the renowned DMP-Z1. This carefully selected component helps transmit high quality audio signals, leaving just the music. The NW-WM1AM2 uses a low-resistance OFC cable which offers low distortion and superior channel separation.
The NW-WM1ZM2 and NW-WM1AM2 have upgraded fine-tuned capacitors – various FT CAP3 capacitors (High-polymer Capacitor) and a large solid high polymer capacitor which offers large capacitance and low resistance. An OFC-milled block covering the digital block allows both music players to deliver sound that appears to rise up from silence.
With a larger 5.0″ (12.7cm) display, both music players introduce a new smooth and responsive touchscreen that has been upgraded to HD (High Definition), optimizing the user experience. Consumers can also personalize their home display on the Walkman Home Screen to suit individual needs, making each Walkman truly unique.
Both Sony premium models deliver up to 40 hours of non-stop 96kHz FLAC High-Resolution Audio playback. A USB Type-C port features on both models, offering fast music file transfer and easy connectivity with a range of devices. The NW-WM1ZM2 offers 256GB of integrated memory and a microSD card slot, while the NW-WM1AM2 offers 128GB of integrated memory and a microSD card slot.
Throughout the history of Sony's premium range music players, audio mastery has been accomplished through a combination of meticulous assembly of exceptional components. Both are products of this philosophy. BUY Sony NW-WM1ZM2 for $3,699.99 and NW-WM1AM2 for $1,399.99 HERE.
---
---
---