Sony launches Wearable neck speaker for a new sound experience like being wrapped in sound
Sony today unveiled a new style of wireless speaker – Wearable Neck Speaker (SRS – WS 1). This unique type wireless speaker is to be wrapped on the neck like a scarf. User can enjoy music that is wrapped in sound. The light weight speaker weighs 335 g and you don't feel the burden of wrapping it around the neck. Soft fabric is used as inner cushion to make you more comfortable while you enjoy your music. No way can this be a burden to your neck.


The inner fabric is dust resistant and the + and – volume buttons are embossed and can feel by touch. The acoustic design of this device is very unique. A small full range unit with a diameter of 30 mm is mounted on the left and right tips inward, and the sound is released while being diffused by the diffuser from the slit at the top.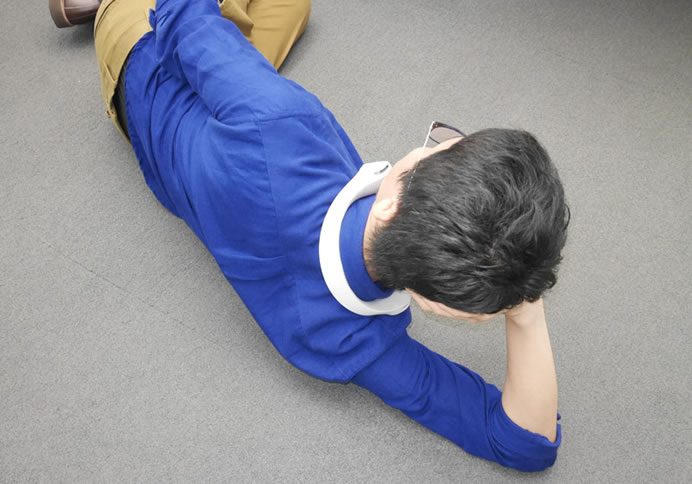 As the output sound is wide, user can enjoy superb music regardless of the posture or physique of user using it.The sound spreads like wrapping the ears from the speaker, bringing a realistic feeling as if you were in a movie or game scene. The sound pressure caused by echoing near the ear creates tremors of the air, and in the live image it reproduces the sound field that actually feels in the live venue.

The three stage Vibrate function adds bass to the output. Vibrations occur in conjunction with the action scenes of movies and games and the sound of drums and basses in live images. User can feel a realistic live feeling .You can listen to TV programs also by connecting the small transmitter to the optical digital output of the TV or to the earphone jack. The device uses radio technology between the transmitter and speakers.

A charging cradle of the same design as the transmitter is included in the packet. To charge the device just place on the top of charger. The maximum battery life is about 7 hours. User can also charge directly by connecting the cable directly to the USB terminal of the main unit. The kit includes –Transmitter (1) Charging stand (1) Micro USB cable (2) Dedicated audio cable (1), optical digital cable (1), AC adapter (2) and audio cable (1) and will be available in Japan from October 14th, for approximately 25,000 yen ($225).


---
---
---