Casio announces G-SHOCK 30th Anniversary limited edition collaborative watch with Burton Snowboards

Casio announced today the limited edition collaborative watch with Burton Snowboards, created to celebrate the G-SHOCK 30th anniversary. This limited edition watch seamlessly merges functionality and style in a way that only Burton and G-SHOCK could. Building on the classic GDF-100 twin sensor watch, the Burton collaborative watch is packed with mountain-friendly features, not only for those who enjoy outdoor sports, but also for anyone who works in harsh outdoor conditions. The new GDF-100BTN-1 is equipped with two types of sensors, one for air pressure and the other for temperature, making it highly practical and functional for use in the great outdoors.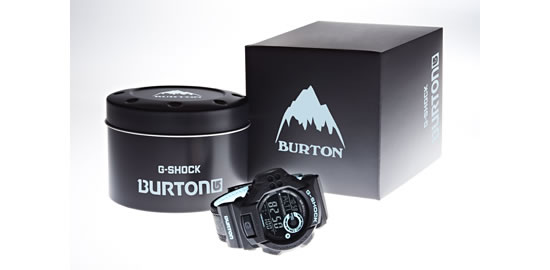 The unique, front-facing pressure sensor located at the 9 o'clock position is designed to take in ambient air for barometric pressure readings at the touch of a button and automatically measure atmospheric pressure every two hours. In addition to displaying atmospheric pressure numerically, the watch displays air pressure changes from the previous reading within a circular display located at the 2 o'clock position. The wearer can use this information as a guide to forecast abrupt changes in weather conditions. The watch also converts pressure readings into altitude readings up to 10,000 meters, using atmospheric pressure conversion. High-brightness LEDs have been used for the display backlighting, providing greater LCD readability in overcast and nighttime conditions. The GDF100-BTN-1 case has a matte black finish combined with glacier blue accents for the detailing and display. A custom, dual-layer synthetic leather and Cordura band provides additional durability and comfort.
---
---
---