Casio announces G-SHOCK watches in Camouflage Patterns
Casio announced today the latest additions to its G-SHOCK family of shock-resistant watches—the GD-X6900CM and the GD-120CM — available in a total of five models, each finished entirely in a camouflage pattern. Featuring a tiger-stripe camouflage motif with stripes running horizontally across the watch, the GD-X6900CM models meet the military standard specifications (Among the United States defense standards set by the United States Department of Defense. Thirteen items are tested under Military specification MIL-STD-810G at National Technical Systems) set by the United States Department of Defense.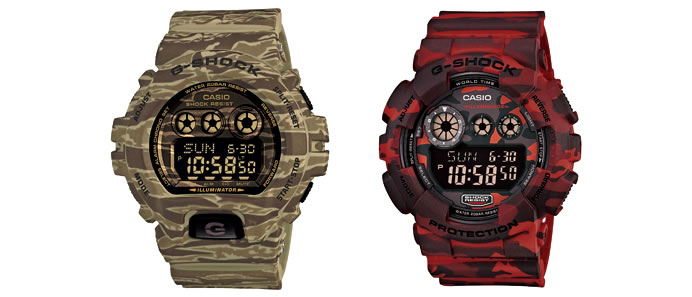 The GD-120CM is finished in a woodland camouflage pattern made up of spots and stripes in several colors. For both series of models, Casio has created a multi-layered finish combining a rugged look with highly fashionable design.

The new GD-X6900CM and the GD-120CM watches are based on earlier Casio GD-X6900 and GD-120 models, respectively, both of which boasted impressively large watch cases. The newly released G-SHOCK models are completely finished in camouflage patterns, including the band, case, and watch face.The camouflage theme also extends to the product packaging, with the box and container finished in the same camouflage pattern as the watch model.
---
---
---