Casio announces high-performance rugged handheld terminals with a 4.3-Inch Touchscreen- IT-G500 Series
Casio announced today the release of the high-performance IT-G500 Series of rugged handheld terminals. The new Casio IT-G500 Series of handheld terminals are equipped with a 4.3-inch touchscreen LCD that offers approximately 25% more viewing area than the IT-800 Series, and enhanced readability with a fine 800×480 pixel resolution (compared with 640×480 on the IT-800). A high-speed 1.5GHz CPU (compared with 624MHz on the IT-800) delivers enhanced processing performance. The large touchscreen and high-speed CPU are ideal for applications such as looking up product information, price checking in retail, process control and traceability for manufacturing. The WWAN model is ideal for jobs such as meter reading for power, gas, and water utility company.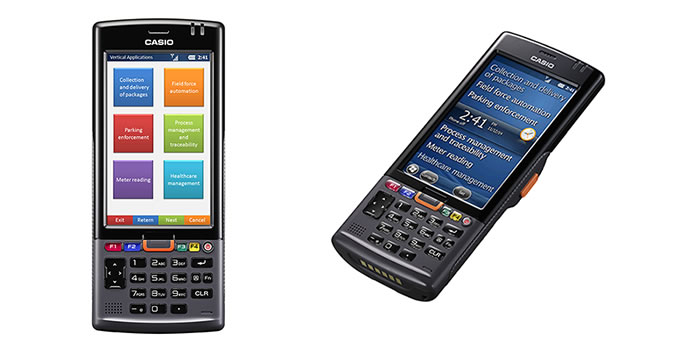 In addition to the ability to look up work data, the terminals have a built-in camera to take and send images, and an NFC reader/writer for reading data from ID cards or by radio frequency identification (RFID). Designed in accordance with ISO 9241-210 standards for ergonomics required for interactive systems, the IT-G500 Series delivers outstanding ease of use through a large screen offering generous display capabilities, an easy-to-hold grip, and scanner optimally angled for barcode reading. The touchscreen can also be operated with gloves.
---
---
---