Casio announces the release of the second Color-matched Set of 30th Anniversary G-SHOCK watches
Casio today announced the release of the second set of color-matched watches to celebrate the 30th anniversary of its G-SHOCK brand of shock-resistant watches—coming up in April 2013. The new watches feature a black and blue color scheme that symbolizes the beginning of a new era for G-SHOCK.The G-SHOCK brand got its start when a Casio engineer named Kikuo, decided to try to develop a watch that was virtually unbreakable. The first model Casio DW-5000C with shock-resistant construction was released in 1983. Overturning the idea of wristwatches being fragile and easy to break, the G-SHOCK created a whole new market for tough watches.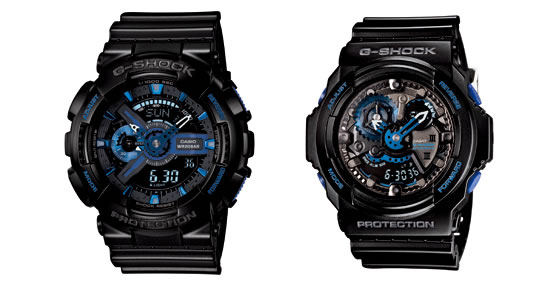 The new anniversary watches are available in two models: – GA-113B-1and GA-303B-1, that deliver cutting-edge features and designs that demonstrate the 30 years of evolution. The black base color represents G-SHOCK, while the blue detailing in the watchface and buttons symbolizes the brilliant blue sky before daybreak, as if to mark a new era. Each watch features a strap keeper engraved with three stars, representing the first three decades of G-SHOCK.

Just like the first anniversary watches, the back plates are engraved with a 30th anniversary logo designed by world-famous graphic designer Eric Haze. Each watch comes with custom packaging worthy of the special occasion.
---
---
---