Eco-friendly Tokyo Olympic podium unveiled
The Tokyo Organizing Committee for the Olympic and Paralympic Games today unveiled an awards podium made of recycled materials. The 98 podiums made of recycled plastic will be the first of its kind in Olympic and Paralympic history, and it presents a new model for a sustainable society. The general public participated in a project to collect used plastic and plastic marine debris, which were recycled to produce the podium. The 98 podiums, featuring the Games' indigo color, were made using 24.5 tons of recycled plastic, including empty detergent bottles collected from households.

The podium design embodies the diversity and inclusion message embedded in the emblem. The chequered ichimatsu moyo pattern that represents the concept of the emblems is arranged three-dimensionally on the sides of the podium, symbolising today's Japan through the transformation of the traditional Japanese design into a modern geometrical style.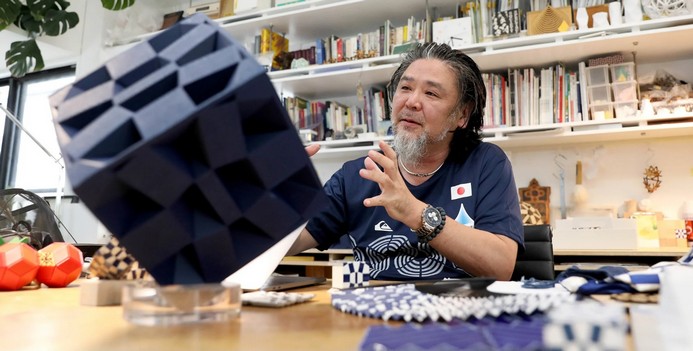 The design and its colour, associated with the traditional indigo dye, express the unique image of Japan that Tokyo 2020 wishes to convey to the world. The podium is designed by TOKOLO Asao, who also designed the Tokyo 2020 emblems. The podiums were constructed using techniques and technology that will be used by the next generation.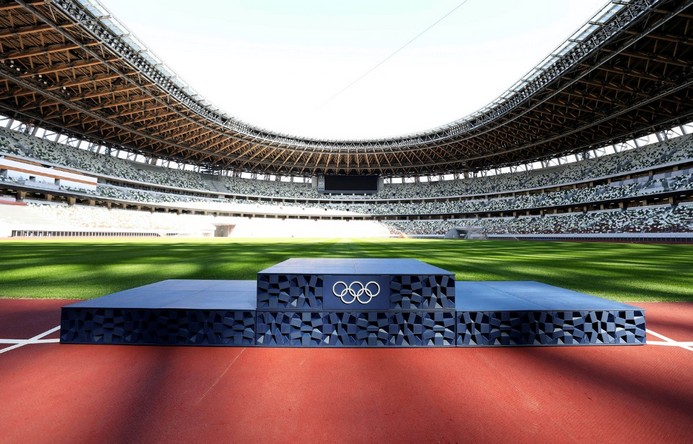 Aluminium waste from the temporary housing units built for families affected by the Great East Japan Earthquake in 2011 were used as the material to express the Olympic and Paralympic symbols, in collaboration with Tokyo 2020 Gold Partner, LIXIL Corporation. Professor TANAKA Hiroya of Keio University helped transform the detailed design into a model made of recycled plastic using a 3D printer. The result demonstrates the advanced technological capabilities of Japan.
---
---
---