EIZO launches 30-inch 6 Megapixel color LCD monitor for Multi-Modality applications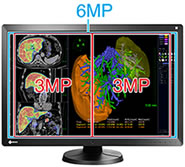 EIZO today announced the release of the RadiForce RX650, a 30-inch color LCD monitor ideal for multi-modality applications. The 6 megapixel screen of the RadiForce RX650 provides enough space to display numerous applications at once, making it an effective replacement for a dual 3 megapixel monitor setup. Medical professionals can conveniently view images side-by-side without the obtrusive bezels typically found in a multi-monitor environment. The monitor gives users full control of the layout on screen to streamline the radiology workflow.



An Integrated Front Sensor (IFS) housed within the front bezel performs convenient, hands-free quality control calibration. While in use, the sensor does not interfere with the viewing area to dramatically cut the workload and maintenance costs associated with maintaining monitor quality control. To meet DICOM Part 14 international standards, EIZO carefully measures and sets each grayscale tone on the production line for the most consistent shadings possible. The RadiForce RX650 comes equipped with an LED backlight that offers a significantly longer service life over a conventional CCFL backlight. This saves energy and cost while also achieving a high typical brightness of 400 cd/m2 for excellent visibility. The RadiForce RX650 will be available from March, 2014.
---
---
---