Fulton showcases furniture pieces integrating eCoupled technology

Fulton and Leggett & Platt showcased several furniture pieces integrating eCoupled technology with Flexsteel Hospitality, KI, Kimball Office, and National Office Furniture at the 2009 NeoCon World's Trade Fair featuring innovative products in various interiors. KI demonstrated delivery of wireless power with eCoupled technology in several market vignettes including a lecture hall, a library media center, and a cafe style business "touchdown" area. Leggett & Platt and KI also partnered to produce a white paper on wireless power for stakeholders in the furniture industry.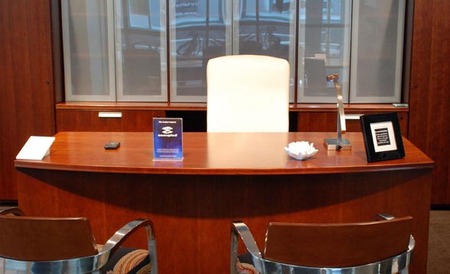 The other furniture pieces shown with eCoupled technology included a work table, an executive desk, a conference table, student seating and work areas, education lecture hall seating and tables, healthcare furniture and lounge and residential seating with tablet arms. These infrastructure environments enabled with eCoupled technology were shown powering eCoupled-enabled mobile phones, lamps, laptop computers, flashlights and remote controls.

---
---
---