Japanese research group develops worlds first artificial joint using pair of cultured muscle pieces
A Japanese research group led by Shoji Takeuchi, professor at the Institute of Industrial Science, the University of Tokyo, has developed an artificial joint using a pair of muscle pieces made by tissue culture for the first time in the world. This is the world's first artificial joint having an antagonistic structure, in which two muscle pieces pull each other, Takeuchi said. The advantage of the structure is that it can be used for a long period of time. The artificial joint is expected to be used for the development of robots that move by using muscles equivalent to those of living bodies as well as regenerative medicine.


The newly-developed artificial joint uses acrylic resin (PMMA: polymethyl methacrylate) for its frame, and two muscle pieces are connected to each side of the joint part so that they become symmetric. When electricity is applied to one muscle piece to shrink it, the joint is bent to one side. When electricity is applied to the other muscle piece, the joint is bent to the other side. As a result, the new joint can be used for a more than 10 times longer period of time, compared with other artificial joints.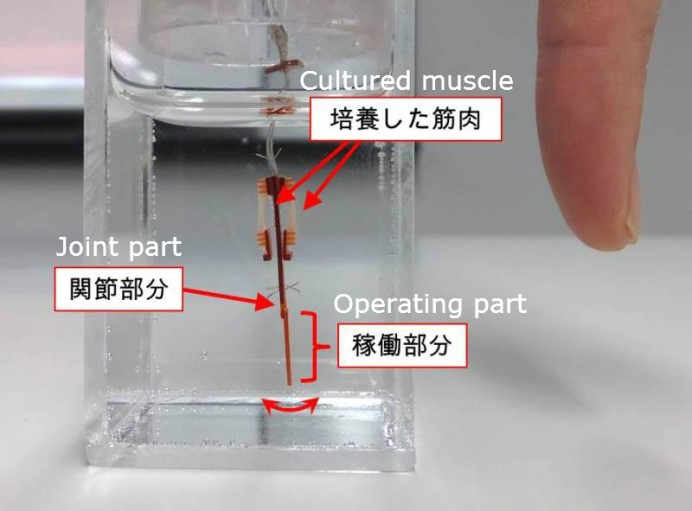 In an experiment, the shrinkage of the muscle hardly changed for at least 48 hours, and it maintained its contractility for at least two weeks. The group made the artificial muscle by using stacked hydrogel sheets and culturing rat-derived muscle cells. Specifically, it used three hydrogel sheets measuring approximately 8 (L) x 4 (W) x 0.5mm (H) each to make a muscle stick having a thickness of about 1.5mm.
---
---
---