LG launches 13 new models of home dehumidifiers in Korea

LG today announced 13 new, models of home dehumidifiers and with this launch LG will further strengthen its Korean home dehumidifiers market. Recently LG has seen a great growth in its dehumidifier sale in local market. The new LG models comes in of 6 liters, 10 liters, 13 liters, 15 liters, 30 liters, depending on the space and dehumidifying the environment of use, such as living room, den etc. In short LG has a model to suite everyone's demand. The LG dehumidifier is very useful during the rainy season, as well as in summer with high temperatures and humidity. With powerful dehumidification function comfortable indoor environment is maintained. Powerful dehumidification function is very effective for dry clothes and shoes.



The new LG dehumidifiers blows powerful wind in both directions up and down and can dehumidify every corner of the room. With LG dehumidifiers, laundry dries four times faster than the normal condition. Humidity control is from 30% to 80%, it is convenient to adjust automatically also. Through the transparent window you can check the water level of the bucket. The can be attached easily. When the water level in the bucket is full, the machine automatically stops the operation.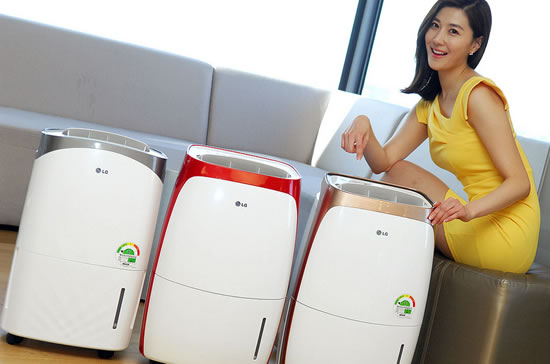 The new LG Electronics Dehumidifiers with 3M filter removes moisture, harmful bacteria in the air. The washable air filter helps provide long-lasting use, and the Lo-Decibel operating system helps reduce noise and vibration for a quiet running cycle. The dehumidifier has electronic controls for easy operation and an adjustable humidistat to help you control the humidity level in your home. They are available in three colors-Red, Silver and Gold.
---
---
---