LG unveils world's first washing machine with two separate loads to be washed simultaneously
LG announced an entirely new washing machine category at CES 2015 today. Its front-loading washer's revolutionary TWIN Wash System, the first of its kind, enables two separate loads to be washed simultaneously. Incorporating a space-efficient mini washer in the pedestal, overall cycle times are reduced with fewer loads required. The TWIN Wash System is powered by the mini washer (Models WD100C / WD200C), the world's first compact washer in a hide-away pedestal, generating a whole new set of washing options. This design concept enables users to take advantage of a second washer without having to sacrifice additional space in the house. When not in use, the mini washer serves as the pedestal for the main washer.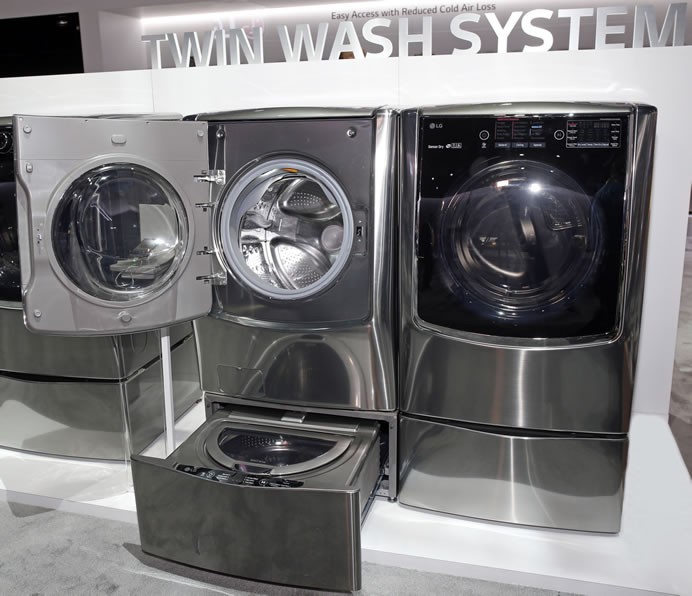 The mini washer can be combined with any of LG's front loading washers and is an ideal solution for small, specialized laundry items that require a gentler touch, such as active wear or lingerie. With TurboWash and TurboSteam technologies, wash cycles are faster while Wi-Fi and NFC translate to an array of intriguing smart connectivity options, including compatibility with LG's HomeChat messaging service.

LG is the first to offer the game-changing TWIN Wash System. This smart innovation lets users wash two loads at once, the first in the main washer and the second in the mini washer underneath. The mini washer is perfect for delicate items that require special attention or unique wash settings. Most importantly, it significantly cuts down on washing time as more than one load can be washed at the same time.
---
---
---