Panasonic portable bidet washes your buttocks with warm water and Eau de Toilette!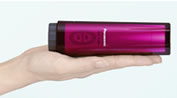 Panasonic today announced the portable bidet- Handy De Toilette Slim DL-P300 that can wash the buttocks comfortably in toilets where there is no warm water cleaning toilet seat in Japan. The handy device with warm water washing toilet seat type function also ejects Eau de Toilette along warm water for a comfortable, clean perfumed buttock wash.



Approximately 70% of public, commercial places and home toilets in Japan have warm water cleaning toilet seats. The market for warm water cleaning toilet seats is expanding in Japan. The Panasonic Handy De Toilette Slim DL-P300 is very handy and easy to carry in a bag or pouch. The type of flow can be adjusted with the supplied two type of adapters.


The low noise operation (45 db) makes it more compelling to use this great innovative product from Panasonic. The washer with 130 ml capacity weighs 230g and is powered by 2xAAA cells. The whole operation takes about 20 seconds. Pricing will be announced during the launch in September.This unique item will be available in Japan only.

---
---
---