PENTAX Optio W20 slim waterproof digital camera

The new PENTAX Optio W20 is a compact digital camera featuring excellent waterproof performance with a slim, flat body design. The waterproof design of the Optio W20 meets the JIS Class 8 waterproof standard, enabling it to withstand up to 30 minutes of continuous operation at an underwater depth of up to five feet, without needing a waterproof case. The Optio W20 includes a 3X optical zoom lens that covers focal lengths from 6.3 to 18.9 mm (equivalent to 38 to 114 mm for 35mm film) and features a "folding" optical system so the lens never protrudes from the camera while zooming. The 7.0 effective megapixels produces extremely high-quality prints with crisp detail even when the photo is greatly enlarged. The Optio W20 comes with a 2.5 inch LCD monitor that is easy to view even in sunny outdoor conditions. The LCD cover is finished with a non-glare coating and features adjustable LCD backlight strength. The Pentax Optio W20 is equipped with a Blur Reduction High ISO mode -the camera automatically adjusts the sensitivity to as high as ISO 1600 to match the brightness of the subject.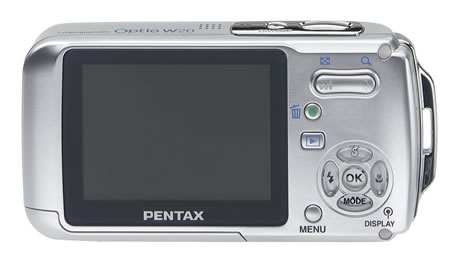 The higher sensitivity permits faster shutter speeds that effectively reduce not just camera shake but also blurring caused by moving subjects. With the Optio W20, you can smoothly capture movies at 30 fps (frames per second) at sizes up to 640 x 480 pixels that rival those shot with camcorders. In addition to a B&W filter, a Sepia filter, a Soft Focus filter, and six Color filters, there is a Fish-eye filter, which dramatically distorts the image so it appears to have been taken with a fish-eye lens. The Pentax Optio W20 with 21.9 MB of built-in memory supports two removable storage media: the conventional SD memory cards and new SDHC memory cards.
---
---
---