Pioneer Unveils Eight New Models of Car Navigation Systems

Pioneer Corp. Japan has unveiled eight new models for its car navigation systems lineup. The new models can share traffic information via the communication function of a mobile phone. Pioneer's navigation systems equipped with "Chikuseki-gata (accumulative) Probe" function which enables users to share information on driving conditions stored in a built-in HDD by transmitting the data to Pioneer's information center via home networks. The latest models with "Real-time Probe" function allow users to share real-time traffic information by connecting a mobile phone to the system. The latest models connect with the center to exchange information every 10 minutes when the destination is set in the system, and if not, the connection takes place every 20 minutes. It is also possible to set the connection interval manually. For a Pake Hohdai (unlimited packet) subscriber using NTT DoCoMo, Inc.'s third-generation mobile phone, the monthly communication fee costs only 1,000 yen or less even if the user drives 1,000 km per month.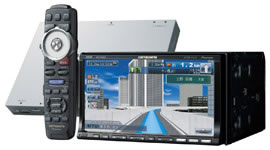 Models AVIC-VH099MDG, VH099G and ZH099G, are all provided with a terrestrial digital TV tuner set, including four tuners and four antennas, as standard. With the adoption of the newly-developed tuners and demodulator LSI, the reception area covered by one broadcast station tower is reportedly expanded to approximately 1.5 times that of the company's existing models. In addition, the "Ohto Chukei-kyoku (automatic relay station) Search" function is newly employed to keep the same program tuned in when the car moves out of one broadcasting area. The new Pioneer car navigation systems will be available in Japan from late May with the top end system AVIC-VH099MDG costing approximately 409,500 Yen ($3,400) and low end AVIC-H099 approximately for 210,000 Yen ($1750).
---
---
---