Samsung Motion Sync Vacuum Cleaner SC20F70's dust sensor alerts user with a red light when a dusty spot is detected

Samsung today announced the European launch of the Motion Sync Vacuum Cleaner SC20F70. The Samsung Motion Sync Vacuum Cleaner SC20F70 is designed to make it easier for users to navigate a vacuum through their home and ensure they get the best clean with ease. Designed for supreme convenience, the SC20F70 features revolutionary Motion Sync Design that makes it the most stable canister vacuum on the market while its innovative CycloneForce Multi technology maintains powerful suction for maximum cleaning performance.The Samsung Motion Sync Vacuum Cleaner's innovative CycloneForce Multi technology features a unique interior structure with fourteen inner chambers that create a multi cyclonic airflow. Its strong centrifugal force separates dust particles and debris perfectly from the air and keeps them from leaving the chamber. This prevents the filter from clogging and maintains powerful suction for a long time.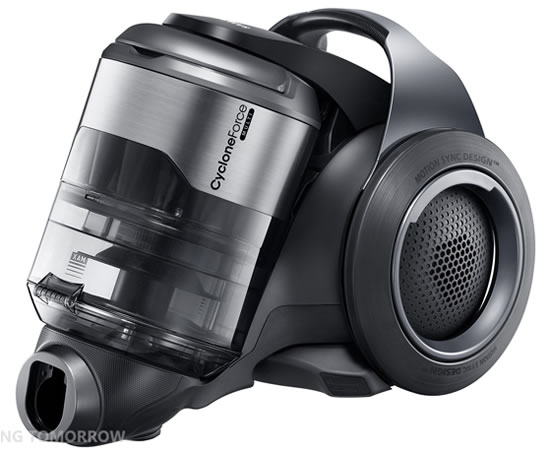 The Samsung Motion Sync Vacuum Cleaner has a simple, sponge like foam filter, which captures more dust and can be easily washed and cleaned. Never miss a speck of dust again with the improved grip of the Samsung Motion Sync Vacuum Cleaner's Extreme Force Brush. It diffuses pressure evenly over the brush to enable the powerful pick-up of dust and particles and ensures a more effective overall performance.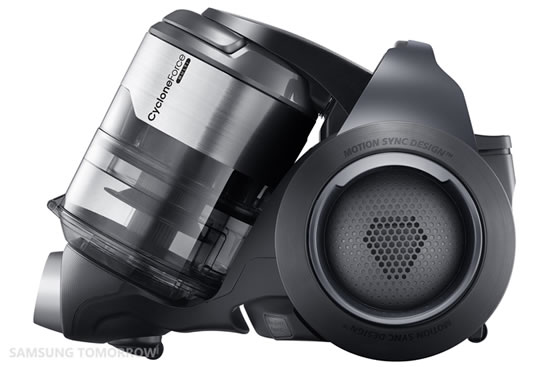 Specialty cleaning tools built directly into the handle make it easy to quickly switch to the pipe, dusting or crevice tools without having to detach the accessories from the device, making it easy to get to those hard-to-reach spots. An inbuilt Remote Control Handle makes it easy to turn the machine on/off and select the optimum suction power. These controls are conveniently located on the handle and always within easy reach, so the user can quickly change the power level, without interrupting cleaning.


An easy-to-read Dust Sensor alerts users with a red light to show it has detected a particularly dusty spot. As soon as the area is completely clean, a green light appears to indicate it is possible to move on, eliminating guesswork and reducing overall time spent cleaning. When the cleaning is complete, the simple-to-remove bagless dust bin is easily emptied into the trash without any possibility of spilling dust back onto the floor.
---
---
---