Sharp futuristic Health Car Support Chair can check a patient remotely from their doctor or hospital

At CEATEC 2013, Sharp unveiled its new Health Care Support Chair. The futuristic recliner chair with its circular frame and triple display monitor set-up looks like an e gaming station, or a spaceship captain's chair the unit actually features a number of devices and censors used to check and monitor one's health. The real purpose of the Health Care Support Chair is to check a patient remotely from their doctor or hospital. Once a person's health information is obtained, it can be transmitted to their healthcare provider for review.



Other medical stats of a person that can be checked are the common ones, like weight, heart-rate, and blood pressure, but other, not-so-standard measurements, which cannot be determined with smaller, stand-alone tools, are things like body temperature, body balance, and even how healthy one's blood vessels are.


Sharp imagines this serving as a way to save people from wasting time while at their doctor's office for rudimentary check-ups, as well as helping doctors and health workers to serve patients who live further away, or are unable to travel beyond short distances. The Sharp Health Care Support Chair can be stationed in easy to access locations, with fewer staff, and still allow patients to get their readings taken automatically, followed by contact from their doctor about their condition or what needs to be done next.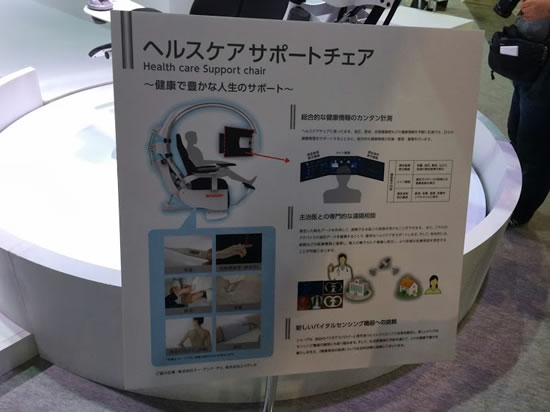 Source:
---
---
---