Sony Semiconductor Solutions unveils an innovative energy harvesting module designed to tap into electromagnetic noise energy
Sony Semiconductor Solutions today unveiled an innovative energy harvesting module designed to tap into electromagnetic noise energy. This cutting-edge technology captures minute energy sources from the environment and living organisms, converting them into electricity. While various methods exist, SSS has leveraged its expertise in tuner development to achieve high-efficiency electricity generation from electromagnetic noise.

This groundbreaking module harnesses the constant electromagnetic noise produced by robots in factories, office monitors, lights, and various electronic devices found in stores and homes. Its primary goal is to reliably provide power for low-power IoT sensors and communication devices, addressing the growing demand for energy sources in the IoT ecosystem.The module incorporates antenna technology refined through tuner development, using the metal components of electronic devices as part of its antenna system. Additionally, a unique rectifier circuit structure has been implemented to maximize energy conversion efficiency. Despite its compact size, the module can convert electromagnetic noise within the frequency range of several Hz to 100MHz into electrical energy. This capability facilitates not only the operation of low-power IoT devices but also battery charging.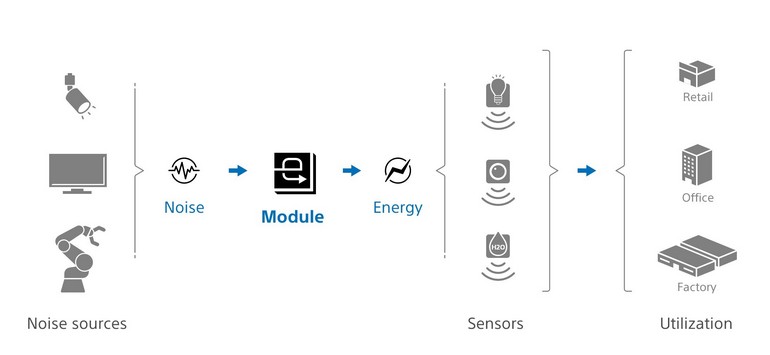 Notably, this electromagnetic noise-based energy harvesting technology is an industry-first, offering a more compact design and increased installation flexibility due to a reduced number of components. It can operate continuously, independent of environmental factors like light levels or indoor conditions. This adaptability makes it suitable for a wide range of applications in settings such as factories, offices, stores, and homes, both indoors and outdoors.
---
---
---