Spectacular night view of the International Horticultural Exposition 2011

The International Horticultural Exposition 2011 is being held in Xi'an, a modern and ecological new city in China's central region. The International Horticultural Exposition 2011 Xi'an will be held from April 28th to October 22nd, 2011 and is expected to attract 12 million visitors. The actual site of the expo is Guangyun Lake. It is located at the bank of Chan-Ba known as "Bashang". Guangyun Lake was a major port in ancient China. During the Tianbao period of the Tang dynasty (742-756AD), Emperor Xuanzong held a large-scale water transport exposition and trade fair here to encourage commerce and trade and display region's capability in smooth water transport. This event in ancient times marked the beginning of the World expo.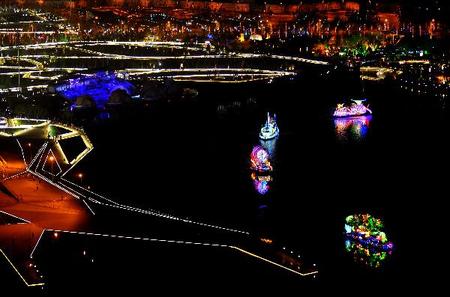 The expo covers a total area of 418 hectares, 188 hectares of which is water area. The expo is based on a pattern of two circles, two axes, and five groups. Two circles refers to the main circle, the core site containing the majority of the exhibition areas and sightseeing spots, and the sub-circle, the expanded site with support facilities such as the expo village and management center.Two axes refer to two landscaping axes, with north-south as the main axis and west-east as the sub-axis. Five groups include Chang'an Park, Creativity Park, Five-Continent Park, Sci-tech Park and Experience Park.

---
---
---