Thousand of LED bulbs light up the worlds largest roof of the Busan Cinema Center designed by Coop Himmelblau

The Busan Cinema Center, which features a huge roof shaped in a wavelike pattern, opened Thursday in Busan, South Korea. It is propped up by a single pillar built to resemble a pair of ice-cream cones. Built on a 30,217-sq.m plot of land, the Busan Cinema Center houses three main buildings and an outdoor plaza including a theater/performing arts center called Cinemountain and BIFF Hill, which contains the offices of the film festival's organizing committee.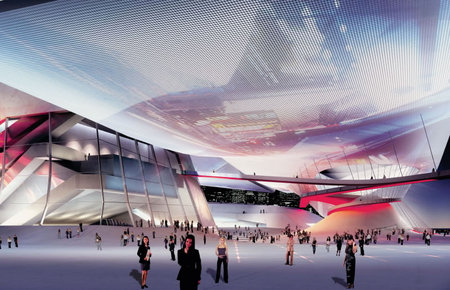 The roof of the center is the largest in the world. Weighing 3,500 tons, it is 1.5 times the size of a soccer field. Propping up the huge roof is a small pillar that resembles two ice-cream cones connected together. Under the roof are 42,600 LED bulbs that light up in a kaleidoscope of colors at night.The Busan Cinema Center was designed by Austrian architectural firm Coop Himmelblau, which was established in 1968 by architects Wolf D. Prix, Helmut Swiczinsky and Michael Holzer.


The firm is famous for its irregularly shaped, deconstructive style of architecture. Their works include the BMW headquarters in Munich, Germany, and the Groningen Museum in the Netherlands. The Busan Cinema Center is the firm's first Asian project. It took three years to complete the center. The Busan Cinema Center will be the main venue of the annual Busan International Film Festival (BIFF), previously known as the Pusan International Film Festival.
---
---
---