Toshiba RC-10VSA/RC-10VWA rice cookers

Toshiba Consumer Marketing Corp. announced the launch of four models of electromagnetic induction-heating rice cookers that regulates the moisture content percentage of preboiled rice between ideal 28-29 % regardless of water temperature and the amount of rice. The new models are mounted with a "Vacuum α Engine II," with more powerful neodymium magnet. The newly-announced rice cooker adjusts the superfluous moisture on the surface of rice in the timer cooking mode. In that mode, the pressure in the kettle is kept at 0.6 atm for about 15 minutes to let water soak into rice. After that, in 1-atm pressure, the rice is left under water for long hours. During this time, the amount of moisture on the rice surface gradually increases to moisture content percentage of over 30 %. Before cooking the rice, the cooker reduces the pressure to 0.6 atm again to adjust the superfluous moisture of rice.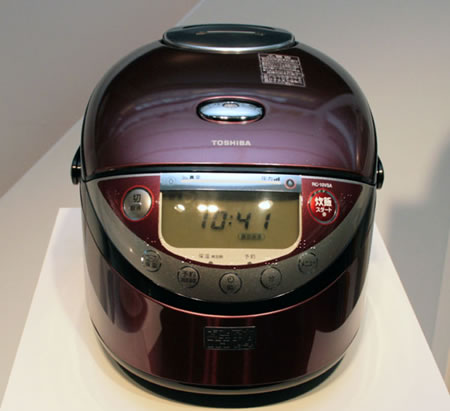 Toshiba will release four models of the rice cookers, RC-10VSA and RC-10VWA, 1.0-liter models, and RC-18VSA and RC-18VMA, 1.8-liter models. RC-10VSA and RC-10VWA have different controllable pressures and kettles.
---
---
---