World's first fuel-cell-powered hired-car service

Nissan Motor Co., Ltd, Japan delivered to Kanagawa Toshi Kotsu Ltd. the latest version X-TRAIL fuel-cell vehicle powered by hydrogen fuel cells to be used as part of their chauffer-driven hired-car fleet. This is the first time that a fuel-cell vehicle has been made available for hired-car services, providing consumers with the opportunity to experience the performance and benefits of advanced clean technology.Each X-TRAIL FCV employs an original Nissan fuel-cell stack and compact li-ion batteries capable of delivering the same level of performance as the gasoline-powered X-TRAIL. Nissan original fuel-cell stack delivers an enhanced power output of up to 90 kilowatts with maximum speed and acceleration on a par with the gasoline engine. Although the vehicle's basic specifications are unchanged, the fare meter is housed in the glove box and a large space is secured in the rear seat zone with the front seats' slide range reduced, in consideration of its use as a limousine. Kanagawa Toshikoutsu plans to train drivers to be able to charge hydrogen by themselves at a hydrogen supply station, for example, during February and start a full-fledged service in March. Fare will be the same as standard limousines.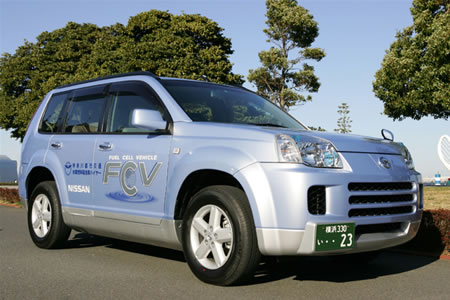 Fuel-cell technology provides zero emission motoring – other than water vapor – by using two renewable elements – oxygen and hydrogen gases – that are naturally abundant in the air we breathe. Under the Nissan Green Program 2010, Nissan will offer advanced technology and products to help make real-world reductions in CO2 emissions, including further practical use of fuel-cell vehicles.
---
---
---