BenQ Joybee GP3 Mini Projector -Designed to enhance the experience of dynamic wireless projection

BenQ today announced the debut of the all-new Joybee GP3 mini projector. Designed to enhance the experience of dynamic wireless projection, the BenQ joybee GP3 gives social-savvy, entertainment-hungry users the freedom to put their personality on display anytime, anywhere. With the improved smart device projection, an all-in-one Apple iPhone/iPod dock, and incredible 160" short-throw 3LED projection with HD-ready image quality, multimedia content from videos, music to photos can be shared instantly from any smart device, whether it's iOS, Android or Windows. Plus, the fun virtually never has to end with up to 30,000 hours of reliable brightness in Eco Mode and an optional detachable battery for purchase.



Palm-sized and available with optional detachable battery, the Joybee GP3 is the perfect unplugged wireless mobile cinema for boundless audiovisual entertainment. For wireless streaming, users can either use the all new Stream to Me capabilities to project videos, music and photos wirelessly from any smart phone or tablet, using iOS, Android, or Windows, or the PC Display Mode to project content from Mac or PC with screen mirroring.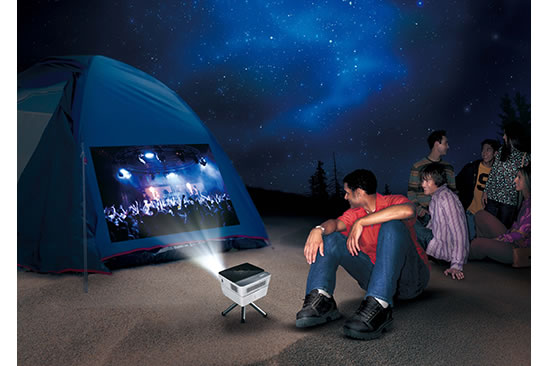 There are also plug-and-play projection options available, such as the all-in-one iPhone/iPod dock, which allows users to share videos, photos and games via applications that support TV-out – while charging their Apple devices, so the fun never stops. To improve the user experience of iPhone/iPod projection, the GP3 is built with the latest user interface design for instant access to all the files on the device. Multimedia content can also be directly projected from a USB flash drive or SD card for PC-less sharing.

With the Joybee GP3, you'll find that there is no need for extra speakers or cords. The audiovisual enjoyment is made complete with brilliant HD-ready 720p image quality and two expert-tuned, built-in 2W speakers featuring SRS WOW HD technology to significantly improve the audio playback quality with deeper bass tones and high frequency clarity for crisper detail. Put the sound quality to the test by putting the GP3 in Standby Mode to enjoy it as a personal sound system. The BenQ Joybee GP3 mini projector will be available for the worldwide market in May 2013.

---
---
---