Canon U.S.A. Launches Six New Laser and Lamp LCOS Projectors and Interchangeable Lenses
Canon U.S.A, today announced an expansion to its award-winning REALiS LCOS projector lineup. From small conference rooms to large lecture halls, the REALiS WUX5800Z, WUX6600Z, and WUX7000Z Laser Projectors and the REALiS WUX5800, WUX6700, and WUX7500 Lamp Projectors offer users WUXGA (1920 x 1200) high resolution, high brightness ranging from 5800-7500 Lumens and versatile connectivity including HDMI and DisplayPort terminals – all in an enhanced, durable compact body. These models include multiple industry-standard interfaces including HDMI®, DisplayPort and DVI-I, as well as HDBaseT for enhanced installation flexibility and Wi-Fi connectivity – which can be used to operate the projector's Network Multi Projection (NMPJ) function and Canon Service Tool for PJ free app.


The Canon WUX5800Z (5800 lumens), WUX6600Z (6600 lumens) and WUX7000Z (7000 lumens) are powered by a laser phosphor light source which provides long-life lasting operation of up to 20,0002 hours, and all projectors are equipped with a "Longer Duration Mode3" which is capable of achieving up to 40,0002 hours of operation. Additional features include 360-degree installation on any axis, fast boot up time of approximately two seconds, wide color gamut and HDR compatibility for reproducing content with outstanding high contrast.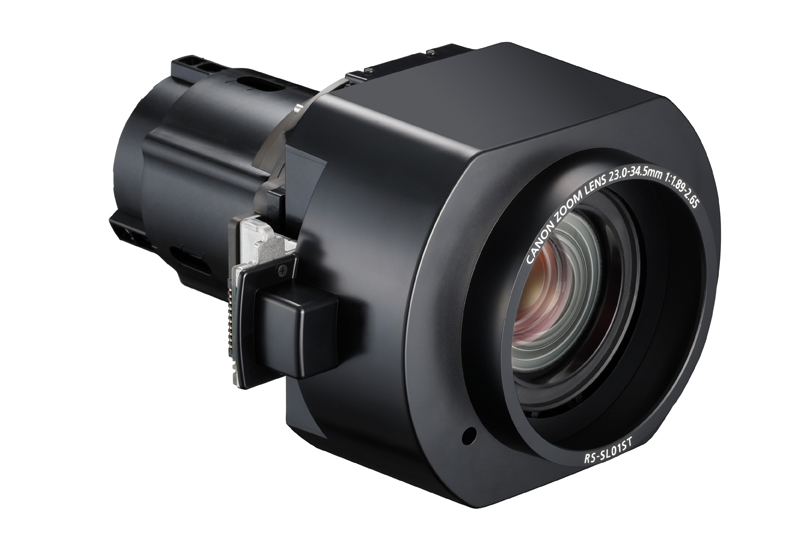 The WUX5800 (5800 lumens), WUX6700 (6700 lumens) and WUX7500 (7500 lumens) utilize a traditional lamp light source and achieve superb quietness at only 27 dB4, suitable for installation environments that demand minimal noise such as schools, hospitals and art galleries.

Equipped with a simple, one-touch spigot mounting system, Canon Interchangeable Lenses -RS-SL06UW, RS-SL03WF, RS-SL05WZ, RS-SL01ST, RS-SL02LZ and RS-SL04UL , The new Canon projectors can utilize the six new Genuine Canon lenses – RS-SL06UW, RS-SL03WF, RS-SL05WZ, RS-SL01ST, RS-SL02LZ and RS-SL04UL all exhibit low distortion and offer flexible lens shift that helps support multi-stacking, blending and a variety of other advanced applications.

The Canon REALiS Laser LCOS Projectors are currently listed at the suggested prices: WUX5800Z ($8,749.00) WUX6600Z ($9,349.00) and WUX7000Z ($10,199.00) The Canon REALiS Lamp LCOS Projectors have the suggested list prices of WUX5800 ($5299.00), WUX6700 ($5,799.00) and WUX7500 ($6,449.00). All models are scheduled to be available through authorized Canon dealers by April-June 2018.
---
---
---