Panasonic compact DLP projector LF-PJ525H easily slips into a shirt pocket

Panasonic Japan today unveiled the compact DLP projector LF-PJ525H (nick named as Micro Viewer) with HDMI input. The DLP projector LF-PJ525H will be available direct from PanaSense from April 20th for approximately 40,000 yen ($401). The sturdy, compact projector with aluminum frame easily slips into a shirt pocket. The Panasonic DLP projector LF-PJ525H comes with three brightness settings-50 lumens (at high intensity), 40 lumens and 25 lumens from (low-intensity). You can connect a notebook PC, smartphones, tablets, digital still/video camera etc with HDMI output to the Micro Viewer. You can connect iPhone / iPad through an adapter (sold separately).



Panasonic PJ525H doesn't have a built in power source and hence has to be connected to an external USB power source. Power can be used from a mobile battery also. It can be projected video footage of Blu-ray and DVD (input resolution up to 1080i.). Three color LED is used as light source .Contrast ratio is 1,000:1. You can project 10-60 size from 10-60 inches distance. The built in white lights lighting modes can be used in case of emergency. The resolution is WVGA (854 × 480) 16:9 aspect ratio.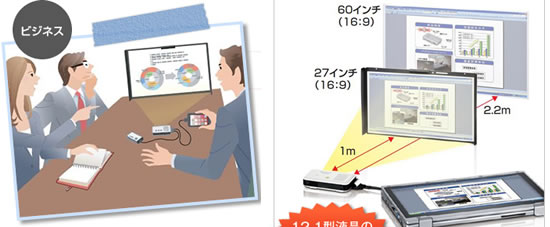 DLP projector is the resolution of the 854 × 480 dots. The light source is from a three-color LED. 1,000:1 contrast ratio. 10-60 type, size can be projected projection distance 37cm ~ 2.22m. Also available white lights lighting modes not only project images can be used in case of emergency. Lights up if you press and hold the power button. Heat is effectively disposed by the efficient, silent fan. Sound level is below 38dB at all settings. Panasonic compact DLP projector LF-PJ525H measures 60 × 102 × 22mm and weighs a mere about 110g.

---
---
---