Sony pico projector module projects focus free high-definition images on any flat or curved surface
Sony today announced the development of a pico projector module equipped with Sony's independently-developed image processing system, that uses laser beam scanning (LBS) to realize crisp, beautiful high-definition resolution and focus-free projection, regardless of the distance or angle from the projection surface. By combining this module with Wi-Fi components and a battery, it can realize a compact, pocket-sized projector which can be used to project images from products such as smartphones or tablets, focus-free and in even higher resolution, on any flat or curved surface such as a wall or desk. Most of the current pico projectors have usage limitations depending on the distance of the projector from the projection surface, such as requiring focus adjustments, or projection from a front-on angle.

The newly developed Sony module is composed primarily of a semiconductor laser, MEMS (Micro Electro Mechanical Systems) mirror, their respective drivers, and a video processor to control the video signal processing and image output. By developing a video processor that ensures the semiconductor laser and MEMS mirror can be controlled with the utmost precision, Sony has achieved high-resolution HD image quality that surpasses VGA and WVGA, which are the current mainstream resolution for battery-driven pico projectors.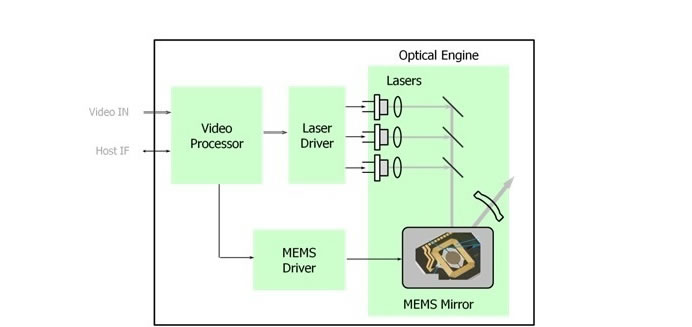 The advanced light-harvesting capability and directness of the laser beam ensure that the projected image remains in focus, regardless of the distance or angle from the projection surface. This module can project clear images to a screen size of approximately 40 inches from a projection distance of one meter, and approximately 120 inches from a distance of three meters. This module is equipped with an independently-developed distortion correction circuit which corrects screen shapes such as rectangles that can be distorted into trapeziums when projected from certain angles to their original shape
---
---
---