Sony unveils its first lamp-less projector using 3LCD imaging technology- VPL-FHZ55

Sony VPL-FHZ55 is Sony's first lamp-less projector using 3LCD imaging technology to achieve 4,000 lumens of color light output at WUXGA resolution (1920 x 1200), to deliver bright and vivid color reproduction. The new Sony VPL-FHZ55 projector uses blue laser as its light source, which excites a phosphorous material that in turn creates white light. The white light is delivered to the 3LCD optical system, generating full-time, vibrant RGB color through a color splitting process. The use of a laser light source also gives the projector instant on/off capability and tilt- free capability for seamless installation in nearly any setting or position. Combined with 1.6x standard zoom lens, V:+60% H:+/-32% lens shift, built-in edge-blending and geometric correction, the projector is fully capable of advanced commercial integration.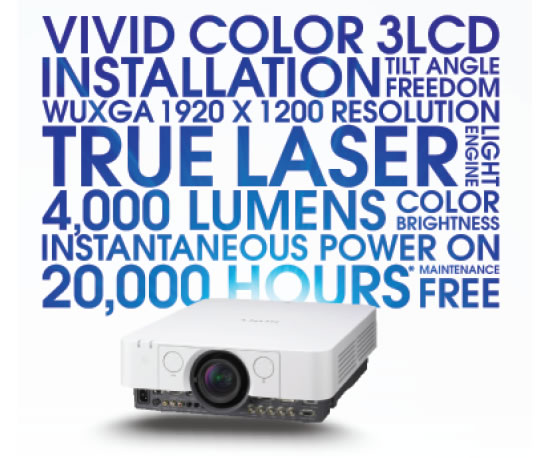 The VPL-FHZ55 projector offers virtually maintenance-free operation for up to 20,000 hours of expected light source, display device and filter use. The HG (mercury) free projector is packed with energy-saving features, including: Auto Light Dimming, which dims light output down to 5% when left powered on without use; and Auto Brightness Adjustment, which eliminates unnecessary illumination when a dark picture is projected; and Constant Brightness Mode, which allows users to maintain brightness throughout the expected 20,000 hour life by driving the projector at reduced light output.The new model is planned for availability in August 2013.
---
---
---