iCleaner M800 supports all kinds of hard floor and low pile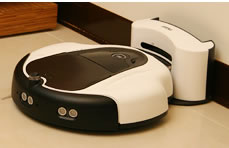 The iCleaner M800 from MSI is equipped with a highly sensitive ultrasonic sensor, so when it approaches obstacles, it slows down, brakes, and changes directions, enabling it to do a great job of sweeping right next to things without actually bumping into them. The iCleaner M800 returns to its recharging cradle automatically and the high-capacity lithium ion battery recharges in just two hours. The special wheel material and the design of the suspension system enable the iCleaner M800 to climb to heights of up to 15mm, so it can travel between wooden floors and carpets and cross electrical wires and wire clamps easily and without causing damage. You can let the iCleaner M800 vacuum your house unsupervised and worry-free.

What's more, the suction of the iCleaner M800 is more than three times more powerful than similar competing products. The dual side brush design ensures that dirt, debris, dust, and hair lurking in corners don't stand a chance. The ultrasonic anti-collision design reduces annoying noises caused by bumping into things, so that "man and machine live in peaceful harmony." The iCleaner M800 is ideal choice for pet owners, because it sports an extra-large dirt receptacle and there is no brush next to the dirt intake under the chassis, so you don't have the problem of hair wrapping around brushes. The iCleaner M800 measures 320 x 90 mm and weigh approximately 2.6 KG (including Battery).
---
---
---