MHI and NCXX achieve wiring reduction in industrial robots through PLC technology
Mitsubishi Heavy Industries (MHI) and NCXX have jointly succeeded in reducing robot wiring through incorporation of power line communication (PLC) technology, an industry first. PLC eliminates the need for the thick power and signal cables that have conventionally been a necessary feature of robot arms, enabling dramatic improvement in robot operability. The two companies are now proceeding toward commercial viability. A variety of tools – hands, sensors, cameras – are typically connected to the tips of arms of robots used in factory automation applications, support devices to achieve recovery from disasters, etc. To control such tools remotely requires not only supplying them with the necessary power but also transmitting supervisory control signals. Conventionally, these needs have been met by thick power and signal cables installed on the exterior of the robot's arm – a configuration that has impeded robot maneuvering.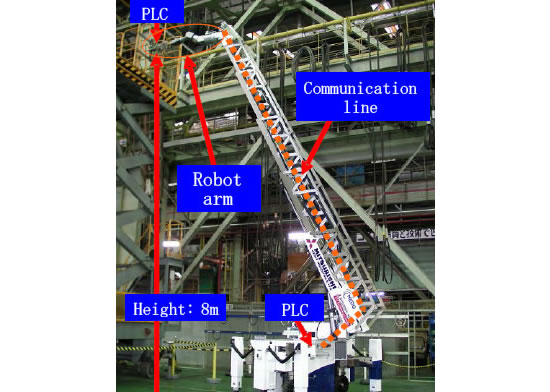 With the new PLC-based wiring technology developed by MHI and NCXX, one pair of thin communication lines simultaneously performs large-volume power supply and high-quality, high-speed signal transmission. The new technology (joint-patent pending) can be used in industrial robots used to achieve factory automation, robots on automobile assembly lines, etc.; alternately it also enables developments in special-purpose robotic fields such as supporting recovery from disasters.
---
---
---