Pop idol Japanese robot converses with customers at Takashimaya Osaka store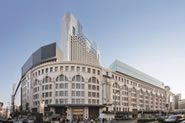 A Japanese robot modeled after a female pop idol and equipped with the ability to recognize words and converse returned Wednesday to a department store in the city of Osaka where it debuted. The robot named Minami after a popular Osaka neighborhood will be on display until May 12 at the same Takashimaya department store where it was first unveiled in November. The older version of Minami had to rely on a touch panel for conversations, but the upgraded version is able to recognize questions and respond to them.



Asked -Do you have a boyfriend? Minami answers, "No, I don't because I'm a pop icon and am not allowed to have any. Minami was co-developed by Hiroshi Ishiguro, a robotics expert and Osaka University professor, and the Advanced Telecommunications Research Institute International in Kyoto Prefecture. On weekends and other designated days, up to 50 visitors a day will get to interact with the robot and snap photos in a private room on a first-come, first-served basis.
---
---
---