Powered by two Evolta AA alkaline batteries Panasonic Evolta Robot to pedal the 4-km Le Mans circuit
Panasonic Evolta Robot will take on the Le Mans 24 Hours circuit to demonstrate its long-life batteries. The robot — 20 cm high, 30 cm long and 20 cm wide — will pedal a three-wheeled cycle, two in front and one in back, along the historic circuit in the French town of Le Mans that is used annually for the world's oldest sports car race. Equipped with an infrared sensor, the cycling robot is programmed to follow a vehicle running ahead of it and guiding the robot on the course. The envisioned stunt on the 4-km circuit is designed to impress consumers worldwide with the durability of the Evolta battery.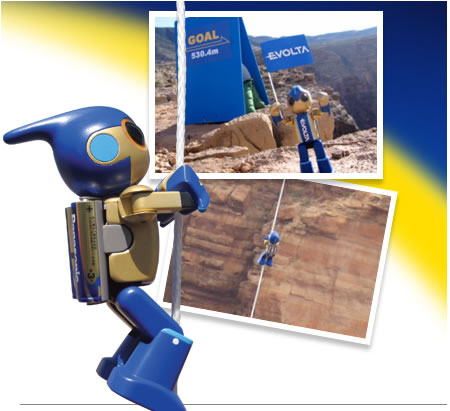 Tomotaka Takahashi is the ingenious Developer behind the new Panasonic Evolta Robot. Mr. Takahashi created this Evolta mascot, which has been nick-named Mr. Evolta, to symbolize Panasonic's Alkaline Battery power. When Mr. Evolta is powered by 2 of Panasonic's Evolta AA batteries, he transforms into a force to be reckoned with. This miniature robot icon is so fierce; that on May 24th 2008, he scaled up a rope of more than 1700 ft. in less than 7 hours at the Grand Canyon.
---
---
---