Toshiba Tetrapod Robot can release a companion smaller robot at places too small for the robot to enter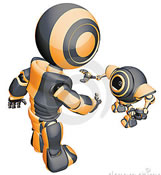 Toshiba today announced that it has developed a tetrapod robot able to carry out investigative and recovery work in locations that are too risky for people to enter, such as Tokyo Electric Power Plant Fukushima No.1 Nuclear power plant. The new Toshiba robot integrates a camera and dosimeter and can investigate the condition of nuclear power plants by remote-controlled operation. The multiple joints of its legs are controlled by a dedicated movement algorithm that enables the robot to walk on uneven surfaces, avoid obstacles and climb stairs, securing access into areas that is challenging to be reached by wheeled robots or crawlers.


The robot also has a folding arm that can release a companion smaller robot that mounts a second camera. This can be launched from the main robot and positioned to take images of narrow places and any equipment behind them, and tubes and other places that are too small for the robot to enter. It is connected to the main robot by a cable.
---
---
---