Driving Barista – First-in-Japan Project Aims to Prevent Accidents Caused by Using Smartphones While Driving
Toyota, Komeda and KDDI will begin an initiative from today in Aichi Prefecture, Japan by utilizing a smartphone application called Driving Barista. The application is aimed at reducing the number of traffic accidents in Aichi Prefecture which are caused by drivers using their smartphones while driving. This is the first traffic safety initiative in Japan involving a smartphone application. For thirteen consecutive years, Aichi Prefecture has had the highest rate of traffic fatalities in Japan. In 2015 alone, there were 44, 3691 traffic accidents which resulted in injuries or deaths.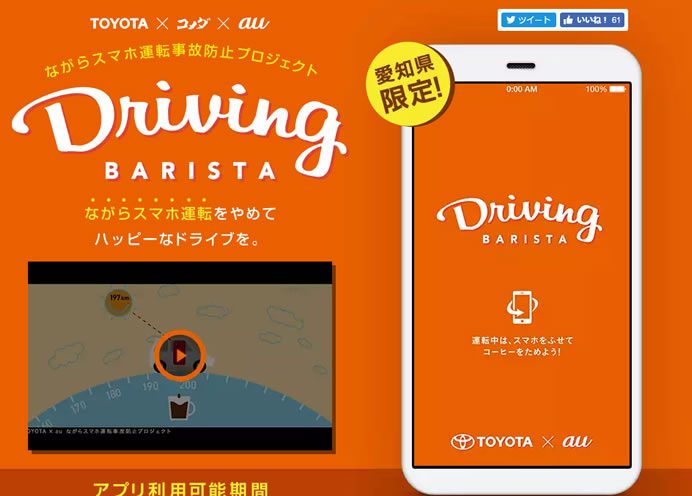 The Driving Barista application can only be used within Aichi Prefecture. By utilizing the gyro sensor to sense the tilt of the smartphone body, and the GPS to determine the distance driven, this application measures the distance the driver has driven while leaving the smartphone facedown. When the cumulative distance reaches 100 km, the driver can receive a coupon for a cup of blended or iced coffee at a Komeda Coffee Shop .Toyota, Komeda, and KDDI will begin their own joint project in tandem with the Japanese government's 2016 Autumn Traffic Safety Campaign (September 21-30). Toyota, KDDI, and Komeda will continue to take steps toward the realization of a safe and secure society.
---
---
---