Samsung Begins Mass Production of Industry's First 12Gb LPDDR5 Mobile DRAM for Premium Smartphones
Samsung today announced that it has begun mass producing the industry's first 12-gigabit (Gb) LPDDR5 mobile DRAM, which has been optimized for enabling 5G and AI features in future smartphones. Samsung also plans to start mass producing 12-gigabyte (GB) LPDDR5 packages later this month, each combining eight of the 12Gb chips, in line with growing demand for higher smartphone performance and capacity from premium smartphone manufacturers.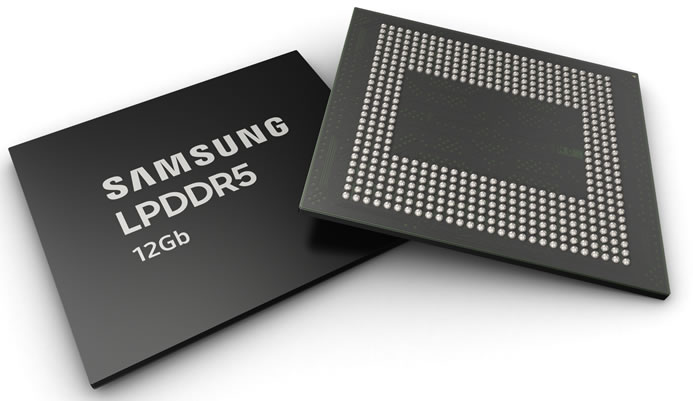 At a data rate of 5,500 megabits per second (Mb/s), the 12Gb LPDDR5 is approximately 1.3 times faster than previous mobile memory (LPDDR4X, 4266Mb/s) that is found in today's high-end smartphones. When made into a 12GB package, the LPDDR5 is able to transfer 44GB of data, or about 12 full-HD (3.7GB-sized) movies, in only a second. The new chip also uses up to 30 percent less power than its predecessor by integrating a new circuit design with enhanced clocking, training and low-power feature that ensures stable performance even when operating at a blazingly fast speed.
Thanks to its industry-leading speed and power efficiency, Samsung's new mobile DRAM can enable next-generation flagship smartphones to fully leverage 5G and AI capabilities like ultra-high-definition video recording and machine learning, while greatly extending the battery life. Following its introduction of the 12Gb LPDDR5 mobile DRAM, Samsung expects to also develop a 16Gb LPDDR5 next year, to solidify its competitive edge in the global memory market.
---
---
---