Kyocera starts operation of Japan's largest offshore solar energy plant in Kagoshima

Kyocera today announced the launch of a 70 megawatt (MW) solar power plant in Kagoshima Prefecture, southern Japan. The Kagoshima Nanatsujima Mega Solar Power Plant went online on November 1 and is being operated by a special purpose company established by Kyocera and six other companies to sell the electricity to a local utility under Japan's feed-in-tariff (FIT) program. Kagoshima City, in the southwestern prefecture of Kagoshima, is one of the few areas in Japan where the sky is clear around 40 days and is perfect for solar energy collection and generation. Expectations and interest in solar energy have heightened to a new level in Japan with the need to resolve power supply issues resulting from the Great East Japan Earthquake of March 2011.



To further promote the use of renewable energy, the Japanese government launched a restructured FIT program in July 2012, which stipulates that local utilities are required to purchase 100% of the power generated from solar installations of more than 10 kilowatts (kW) for a period of 20 years. Additionally, a tour facility has been built adjacent to the 70MW plant — which is open to the public — featuring a circular viewing room where visitors can observe the 290,000 solar panels from an elevated vantage point and enjoy the view of the ocean bay and grand Sakurajima volcano in the background.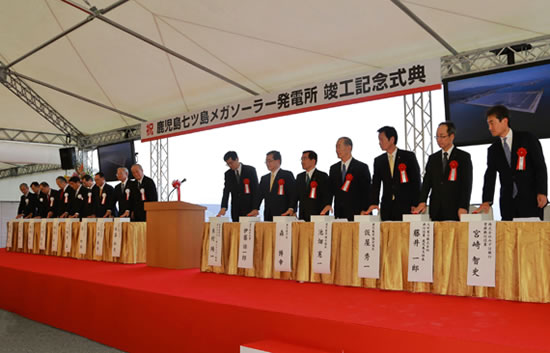 ---
---
---