2015 Ford Mustang raises the bar for passenger safety with knee airbag system
Ford is introducing an all-new inflatable airbag restraint design that provides the front seat passenger in 2015 Ford Mustang with knee airbag protection while significantly reducing system size and weight, enabling a roomier interior for more comfort. The new airbag design on the 2015 Ford Mustang raises the bar for passenger safety by providing inflatable restraint protection in a smaller, lighter package that also enables a roomier interior for more comfort. In the initial application of this technology, an inflatable plastic bladder is integrated into the glove box door and provides front passenger knee protection similar to a conventional knee airbag mounted under the instrument panel. Other applications for this unique and patented technology – which allows airbags to be placed in new locations inside the vehicle and provides more freedom to vehicle designers – are being considered.


To make the new knee airbag possible, Ford engineers developed and tested innovative materials and construction techniques. Unlike a traditional fabric airbag, the new system consists of a pliable, injection-molded plastic bladder sandwiched between the inner and outer glove box door panels. After an applicable vehicle impact is detected by the crash sensor system and classified, an inflator fills the bladder, extending the entire glove box outer door panel toward the front passenger's legs. Once deployed, the outer door helps to provide cushioning in a manner similar to a traditional knee airbag.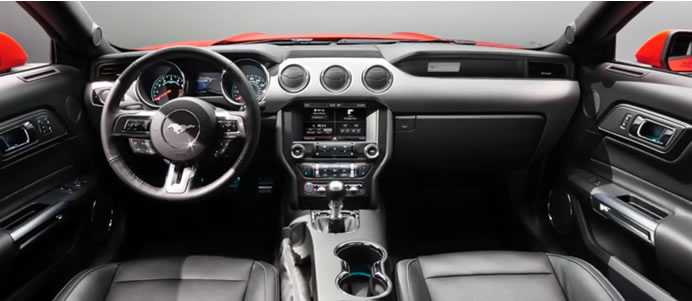 Since the glove box-integrated airbag extends straight out from the instrument panel, it doesn't have to travel as far as a conventional airbag, which deploys toward the floor before curving upward. Since the glovebox door distributes the impact load over a larger area than a traditional airbag, it is able to operate at a lower inflation pressure. The resulting design is 65 percent lighter with an inflator that is approximately 75 percent smaller than a conventional knee airbag inflator, while providing comparable protection to the passenger. The improved packaging of the system is more discreet, with no visible seams or airbag cover. In developing the new Mustang passenger knee airbag, Ford has been granted 15 U.S. patents already, with more patents filed.

---
---
---