All-new Mazda Axela to feature next-generation car connectivity system-Mazda Connect

The all-new Mazda3 (Axela in Japan) will feature a next-generation car connectivity system, Mazda Connect, when it goes on sale this autumn. The new system will increase the scope of driving pleasure and engender a deeper relationship between car and driver. To enable the driver to enjoy the wide range of content on offer while keeping their attention focused on the road ahead, Mazda has developed a brand new Human Machine Interface (HMI), based on its unique Heads-Up Cockpit concept. As the amount of information presented to drivers behind the wheel increases, the new HMI creates an environment in which the driver is consistently looking at the road ahead and can concentrate on the safe operation of the vehicle.



One of the functions available through Mazda Connect is access to the Aha by HARMAN web content platform for automobiles (Aha). Mazda is the first automaker to finalize a global licensing agreement with Aha, allowing customers to access the service in any country in which Aha is available. This will make it the first connected car in those markets offering access to Aha. In Japan it will be the first vehicle to offer as standard equipment a device that allows the driver to access internet radio and other services through their smartphone.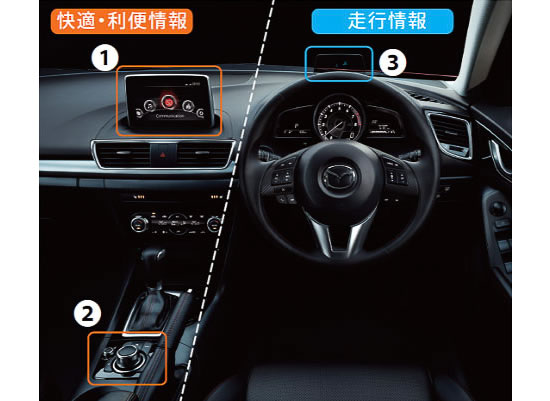 ---
---
---