Denso develops world's first automotive A/C System capable of heating/cooling of the driver area only

Denso has developed the world's first automotive air conditioning (A/C) system that is capable of heating/cooling the driver's area only. DENSO's new system can separately control the climate in three different cabin zones, the driver, front passenger and rear seat areas, which can help improve overall fuel economy when the A/C is on. As in-dash space is limited, it is important for DENSO's new system to maintain the same size level as a conventional A/C system. With this in mind, the company developed a new internal structure for the heating, ventilation and air-conditioning (HVAC) unit.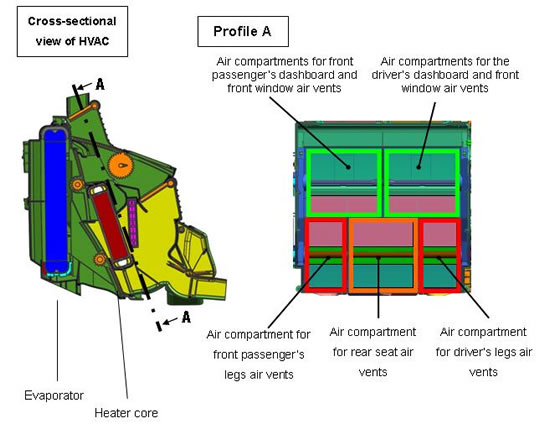 To separately control the climate of each area, DENSO divided the internal structure into five compartments with each compartment connected to specific air vents: the driver's dashboard and the driver side front window, the driver's legs; the front passenger's dashboard and front passenger side front window; the front passenger's legs; and, the rear seat.When an A/C system is in heat mode, it uses a large amount of outside low-humidity air to ventilate the cabin and to prevent window condensation. Previously, the same amount of cabin air was lost externally. However, DENSO's new system only uses outside air for the driver and front passenger's dashboard and front window vents. Compared to conventional products, this reduces the amount of warm cabin air lost by half, which also helps to reduce the amount of energy needed to operate the A/C. The new Denso A/C system was launched in the Japanese market and in other regions of the world earlier this year.
---
---
---