Honda announces Sales of All-new N BOX + Mini-vehicle in Japan

Following the introduction of the N BOX, which realized one of the largest interior spaces among all mini-vehicles in the market through adoption of newly-designed platform and powerplant, Honda has now introduced the N BOX + which was developed under the concept of adding ("plus") new possibilities. Honda will begin sales of the N BOX + ("N BOX plus"), the second model of the new mini-vehicle N Series, at dealerships across Japan on July 6, 2012.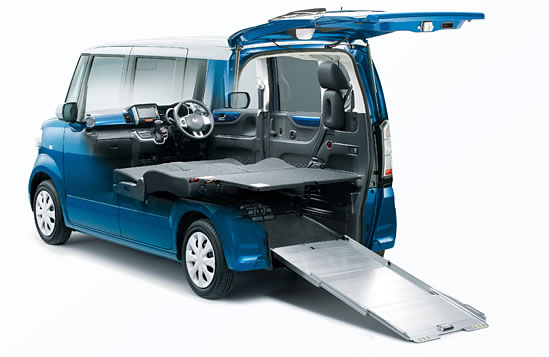 Two innovative ideas were added to the large cargo area made possible by the combination of Honda's innovative packaging technology, the center-tank layout, and the newly-developed powerplant. The Universal Bridge combines a sloped floor and an attachable aluminum slope , which makes the loading and unloading of luggage and other items easier. The "Multi-space System realizes versatile space arrangements with three different sized boards.


The addition of these innovative ideas enables the N BOX + to accommodate diverse customer needs in a wide range of vehicle uses including daily routines, recreational activities and special needs care-giving. The 2-tone color style , which has different color combinations for the body and roof, was established to enable each owner to more strongly express their personality in a fun way, expanding the potential for the joy of customers.


The N BOX, the first model of the new mini-vehicle N Series, was Honda's proposal for a mini mini-van which leverages its overwhelming spaciousness beyond the concept of mini-vehicle to enhance occupant comfort. The vehicle has been well received by a large number of customers, especially families with children, and cumulative sales since the sales launch in December of last year has already reached approximately 100,000 units.

---
---
---