Honda reveals FC Sport-a hydrogen-powered three-seat sports car concept

Honda revealed the Honda FC Sport design study model, a hydrogen-powered, three-seat sports car concept, at the 2008 Los Angeles Auto Show. The Honda FC Sport emphasizes the design flexibility and potential of Honda's V Flow fuel cell technology – already deployed in the Honda FCX Clarity sedan – and reconfigures it into a lightweight sports car design with an ultra-low center of gravity, powerful electric motor performance and zero-emissions. The high-output Honda fuel cell powertrain and a sleek, aerodynamic body contribute to the vehicle's performance potential. The optimal placement of fuel cell components for performance also allows for a relatively large passenger cabin by conventional supercar standards with enough space for three seating positions. The interior layout focuses primarily on the driver with a racecar-like center driving position. The enclosed canopy opens upward from the rear to allow for entry and exit. Two rear passenger seats flank the driver's left and right side.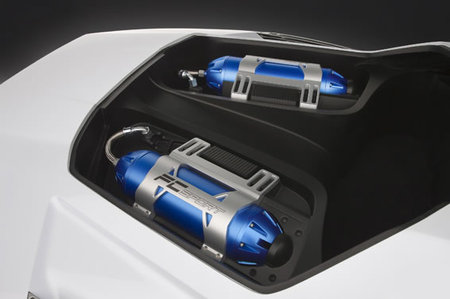 The ideal placement of the Honda V-Flow fuel cell stack and related components demonstrates the benefits of a platform-specific, hydrogen-powered fuel cell powertrain. The FC Sport is configured to accommodate a custom-formed high-power fuel cell stack, located between the rear seats, and a battery pack placed low in the middle of the vehicle. The electric motor resides just forward of the rear axle. Two fuel storage tanks, visible from above, are located above the rear axle.
---
---
---