Hyundai Begins Sales of limited edition Genesis Prada in Korea

Hyundai today began sales of the limited edition Genesis Prada in Korea (limit sales to 1,200 units in Korea) amid industry-wide attention surrounding the collaboration between a leading carmaker and Prada, one of the world's leading brands in the luxury goods industry. Genesis Prada will be produced by customized personal orders, while the limited Genesis Prada badge and GP500 emblem will emphasize the scarcity of the car.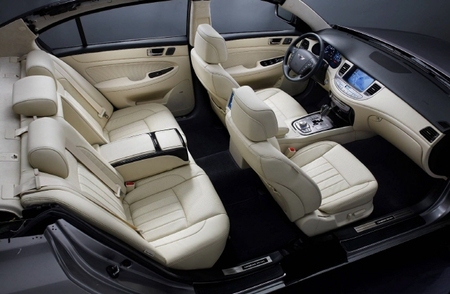 Genesis Prada is characterized by a special design that combines Prada's sophisticated innovation, attention to detail and uncompromised quality approach with Hyundai's advanced technology and expertise in car manufacturing. Hyundai and Prada worked together for over two years to perfect the model, after unveiling a special edition at the 2009 Seoul Motor Show. This is the first time a production model is being introduced to the market.


Genesis Prada is based on the 2012 Genesis, which was launched in February this year. The car, which won the prestigious 2009 North American Car of the Year award, is powered by Hyundai's Tau V8 engine, which has been chosen as one of Ward's 10 Best Engines for three consecutive years since 2009. The 2012 Genesis's Tau 5.0 GDi engine delivers a peak power of 430ps and a maximum torque of 52.0kgm, mated with an eight-speed automatic transmission that allows drivers to enjoy the cars power and driving dynamics to their fullest extent.


Genesis Prada comes in three special colors – Black Nero, Blue Baltico and Brown Moro – that are applied with a three-layer coat technology with stereoscopic gold pearl. Dark chrome is applied to the radiator grille, emblem and door handles to reflect the unique palladium-coated buckles on Prada's bags. The innovations introduced by Prada include also 19-inch alloy wheels and an outer antenna with a wedge shape.
For the interior, the dashboard and the upholstery have also been revised and artisan-crafted in "saffiano" leather – Prada's signature top quality leather – to obtain a luxurious and sophisticated finish. Hyundai, together with Prada, will carry out exclusive VIP marketing activities to provide customers with ultimate satisfaction and convenience. Hyundai plans to offer a limited number of 1,200 units in the Korean market, later exporting to a limited number of Middle Eastern and Asian countries, including China.
---
---
---