Hyundai Motor India to double annual production capacity to 600,000

Hyundai Motor, the top South Korean automaker, opened its second plant in India on Saturday in a bid to grab a bigger slice of the pie in one of the world's fastest-growing automobile markets with its "i10" compact cars. Located in Sriperumbudur, near the southern Indian city of Chennai, the new plant of Hyundai Motor India (HMI) will double the carmaker's annual production capacity to 600,000, second only to leader Maruti Suzuki India's planned expansion to 1 million by around 2010. The newly built facility, adjacent to the existing facility, would largely be dedicated to the production of the new "i10" for local and export markets. Launched last November here in India, the i10 swept four "2008 Car of the Year" awards out of five in the country recently.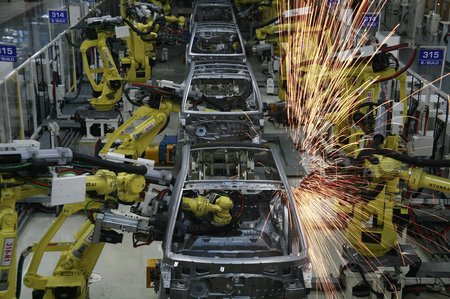 Hyundai Motor India sold a total of 327,160 vehicles in 2007, up 9 percent from the previous year. Sales of models such as the "Santro" and "Getz" hatchbacks ― "Atoz" and "Click," respectively, in South Korea ― rose 8 percent on the domestic market, while exports jumped 12 percent. But the company, which is in talks to launch commercial vehicles in India within a year, is expected to face a tougher fight from India's third-largest carmaker Tata Motors, which will churn out the ultra cheap "Nano," priced at just over $2,500, later this year.
---
---
---