Japanese astronaut Mamoru Mori felt like he was floating while riding Honda UNI-CUB

Honda today unveiled the new UNI-CUB personal mobility device, designed for harmony with people. Featuring a compact design and comfortable saddle, UNI-CUB offers the same freedom of movement in all directions that a person enjoys while walking. Japanese astronaut Mamoru Mori compared riding a prototype of the new UNI-CUB personal mobility device to his experience of flying on the space shuttle.I felt like I was floating. That is just like how I felt in outer space, said Mori, who serves as chief executive director at the National Museum of Emerging Science and Innovation, which will be testing the new Uni-Cub single-seater with the automaker.



Representing the evolution of the U3-X personal mobility device that Honda announced in 2009, UNI-CUB features Honda's proprietary balance control technology and the world's first omni-directional driving wheel system (Honda Omni Traction Drive System).


These technologies allow the rider to control speed, move in any direction, turn and stop, all simply by shifting his or her weight. Since the rider can freely move forward, backward, side-to-side and diagonally, he or she can quickly and easily maneuver among other people.


The rider can control the vehicle using a smartphone's touch panel, whether he is riding it at the time or not. It will even drive itself to a destination entered by the user.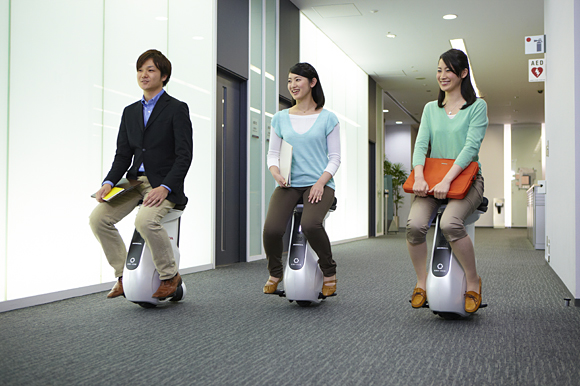 Moreover, UNI-CUB's compact saddle-style packaging makes it easy for the rider's legs to reach the ground and maintains eye-level height with other pedestrians. This configuration promotes harmony between the rider and others, letting the rider travel freely and comfortably inside facilities and among moving people.


The vehicle's maximum speed is 6 kph, and it can travel for an hour on full charge. It is best suited to indoor use on an even surface. Starting in June 2012, Honda will jointly conduct demonstration testing of UNI-CUB with Japan's National Museum of Emerging Science and Innovation. In addition to testing the feasibility of using UNI-CUB indoors, this project will explore the practical applications of the device in a wide range of environments in Japan and other countries.
---
---
---