Japanese Terra Motors aims for the worlds world's number one seller of electric tuk-tuks within two years

Japanese company Terra Motors is hoping to win a big slice of Asia's tuk-tuk market, betting that their battery-operated buggies could cut burgeoning city pollution. Terra Motors president Toru Tokushige said that there is not a single company in Asia that mass-produces electric bikes or tricycles as Terra Motors. Terra Motors unveiled yesterday the prototype of their electric tuk-tuk, a sleek-looking blue and white machine that can carry up to six people, including the driver. Tuk-tuks, a cross between a motorbike and a tricycle, are a common form of transport in urban areas across Asia. They are blamed for causing serious air and noise pollution.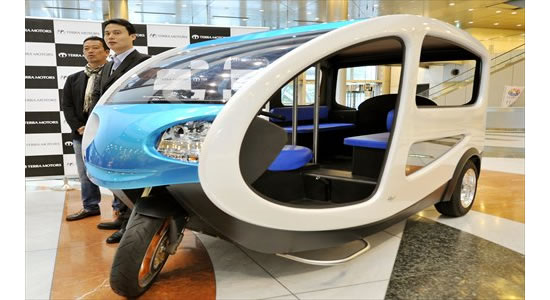 The vehicle, 3.3 meters long and 1.47 meters wide, is powered by a lithium battery, and can run 50 kilometers on one full charge. Terra Motors is hoping to win the bid for part of a Philippine government contract that is expected to see 100,000 electric tricycle taxis on the country's streets by 2016. The Japanese firm is aiming to become the world's number one seller of electric tuk-tuks over the next two years.

---
---
---