Japan's Prime Minister Shinzo Abe Rides in Nissan LEAF for First Autonomous Drive Public Road Test

Nissan's revolutionary Autonomous Drive test car has taken to the public roads in Japan for the first time, with the country's Prime Minister Shinzo Abe on board. The all-electric Nissan LEAF vehicle, which was the first with autonomous drive capability to be granted a license plate in Japan, drove on the roads around the National Diet Front Garden, a public park in the center of Tokyo between Japan's parliament and the Imperial Palace. The attendance of the Prime Minister underlines the support of Japan's government for the development of autonomously driven vehicles, which have the potential to become a prime factor in Japan's economic growth.


The all-electric Nissan LEAF is serving as a base vehicle for the development of autonomous drive technology. Driving on public roads is made possible with technology to detect road conditions. The vehicle is equipped with cameras, laser scanners and radar, which identify nearby pedestrians, traffic lights, traffic signs and other objects. The data is processed by an on-board computer that makes decisions which are implemented with automatically-operated controls for the vehicle's acceleration, handling, brakes and more.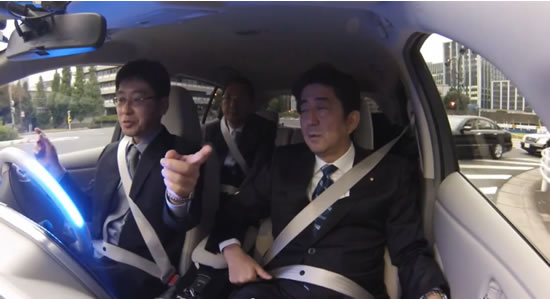 ---
---
---